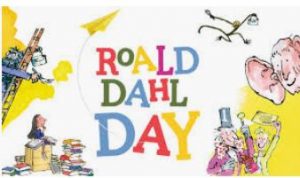 At Perry Hall Primary school we celebrated the birthday of famous children's author Roald Dahl in style. Everyone came to school dressed as their favourite Roald Dahl character from Fantastic Mr Fox to Willy Wonka.
As part of our 'One School, One book' approach, all year groups read Roald Dahl's Revolting Rhymes: The Wolf and Little Red Riding Hood.
Year 1 created wanted posted aimed at helping the capture of the Big Bad Wolf. The children were asked to draw a picture of the infamous wolf and write a short sentence to accompany this.
Year 2 looked at alternative tales and used this to create a wanted poster for Little Red Riding Hood. This allowed them to focus on their descriptive language.
Year 3 wrote police incident reports in their quest to make sure that the wolf was brought to justice.
Year 4 wrote detailed wanted posters aimed at ensuring the public new about the severity of the Big Bad Wolf's crimes.
Year 5 wrote a diary from the perspective of Little Red Riding hood. All of the children used this opportunity to focus on their figurative language.
Year 6 used this poem as inspiration for writing their own alternative fairy tales. All of the children wrote an alternative ending to Little Red Riding Hood, many from the perspective of the wolf.
The day was thoroughly enjoyed by all, reminding us all why at Perry Hall we love reading!