Perry Hall Reading Bus
About
We are extremely excited to be having a reading bus on our school grounds!
Our PTA successfully located a bus for us through National Express, who have very kindly donated it to us to be transformed into our school reading bus. The bus will be a place for our pupils and local community to enjoy reading their books in an area which is both colourful and inspiring.
The bus will be located centrally on the main playground and will be enjoyed by all pupils within our school.
The aim of this project is to promote the love of reading by providing our pupils with a place to read which is both unique and inviting. We believe strongly that developing reading skills further will lead to greater opportunities to our children in both their education and future employment.
There are no other facilities like this in the area which makes this a really exciting project for our school and local community.
The outside of the bus will be decorated with the winning design from a competition which is going to be held with our pupils.
Progress
December 2017
The concrete base was laid in November and is now ready for the arrival of the bus.
A visit to see our bus in the workshop took place in late November where we saw our bus in the queue for final repairs and the paint workshop.
The photo below shows some children excitedly watching the base being laid: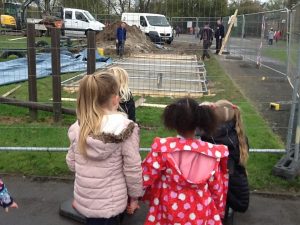 The seats have been stripped out ready for us to begin transforming the inside of the bus and the delivery is due to be scheduled in early December.
A sing-along event took place in September 2017 with a former teacher –  Irene Dodd (pictured on the right) which helped to raise over £300. This evening took place with over 50 of her ex-pupils, including some of our current parents. The oldest pupil at the event left Perry Hall in 1965!
Irene, who retired from Perry Hall thirty years ago became well-known amongst her pupils during her time here for her sing-alongs with the whole school.
It was a wonderful evening hosted by our very own Dicky Dodd from signal 107, also a formal pupil.
Our Second event was a Caribbean Carnival Disco which was held on the 18th October 2017, where we raised just under £600!
This was another amazing PTA disco with some great music and treats! All children and staff attended the event in bright carnival colours!
So far, we have received kind donations from Dains Accountancy, Concept Education and S4S – thank you to all of you!
Although this project is well underway, we still have a long way to go to reach our target of £20,000 to achieve the pupils' dream bus.
Any help you can provide, would be greatly appreciated.
Here is our bus: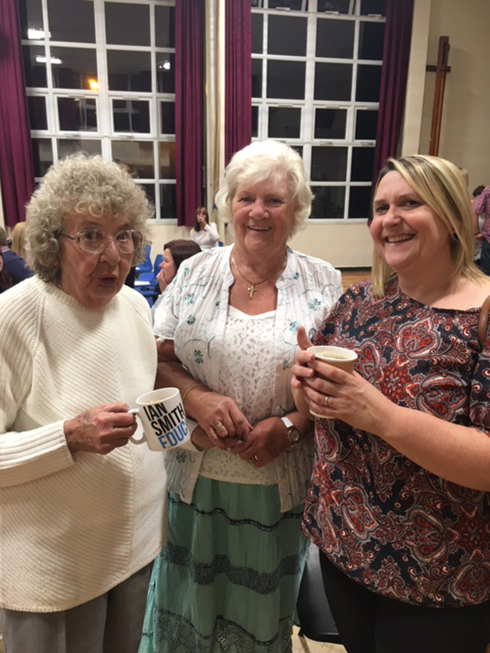 We have raised £2,500 of our £20,000 target so far
Year 3 Child
"We need a library where we can find lots of information books."
Year 2 Child
"I would like somewhere we can go where it is quiet and calm at lunchtimes."
Year 5 Child
"We need a place to chill out and be calm with bean bags when we get bored or angry."
Year 6 Child
"I love reading and would love to read at lunchtimes, not just with reading buddies but on my own."